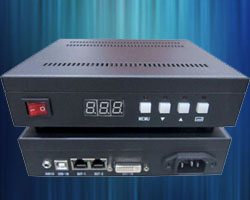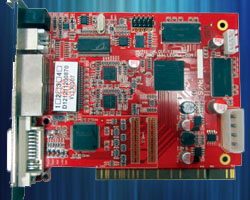 DBS-HVT11OUT
1.Support RGB ,the maxinmum number or color supported is one billion
2.Support sound transmission
3.Support hot backup of dual LAN lines
4.Support input of DVI digital signal
5. Support HDMI 1.3B standard ,support AADCP1.2 protocal
6.Rotation angles 0 .90. 180. 270
7.Support encryption time by software setting
8. Support dual ports lateral ,blank line and insert line setup
9.Working voltage range: 100-240V AC 50/60HZ
10.USB port communication single card can drive 1280*1024 ,1024*1200,2048*640
11.Support OE and PWM brightness adjustment ,turn on/off an lock screen through  the panel key
DBS-HVT11IN
1.Support RGB ,the maxinmum number or color supported is one billion
2.Support sound transmission
3.Support hot backup of dual LAN lines
4.Support input of DVI digital signal
5. Support HDMI 1.3B standard ,support AADCP1.2 protocal
6.Rotation angles 0 .90. 180. 270
7.Support encryption time by software setting
8. Support dual ports lateral ,blank line and insert line setup
9.Working voltage range: 100-240V AC 50/60HZ
10.USB port communication single card can drive 1280*1024 ,1024*1200,2048*640
11.Support OE and PWM brightness adjustment ,turn on/off an lock screen through  the panel key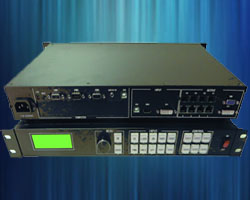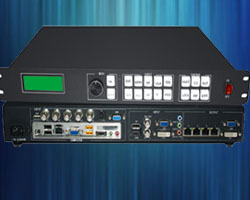 DBS-HVT13S
1. specification
DBSTAR new generation led display synchronous sending card ,which is with 8 pcs network output ports ,
it has multi types of video source connectors and  controls large pixels screen ;and also the video source
has loop output functions; use with press buttons and LCD panel ,you can set the screen easily without PC;
2. Technical
1 :Driver big screen,4 network ports max support 2048X1152@60HZ, 8 network ports max support
4096×2048
2:2D and 3D integration capabilities,Support 3D video source directly,use with DBSTAR controller to
realise 3D effection
3: aboundance of vedio input connectors ,support HDMI single path,and DVI double path (3D)video
input,may insert 3D video source directly .
4: real 8 network output ports,each position of output ports can be set according to your requirements.
5:support offline work, use with key buttons and LCD panel ,easy to read and set the screen parameter
s, such as: resolution selection,and turn on and off screen .
6:HDMI/DVI video input;Use it as asynchronous controller ;
7:it is only led controller system in the market supportting 3D video input, single machine driver
3D led screen with 1920X1080pixels.
DBS-HVT13VP-A Led processor
 1 advanced image zoom technology ,make images smoothly and exquiste
Insert our sender ,easy to use and save your cost
2 abundant video input ports:1XVGA,1XHDMI(DVI).1xYPbPr(HDTV) 1XSDI(3G),2xVideo (PAL/NTSC)
3 advanced movement self-adjustment make the PAL/NTSC video more clearly no movement
 video imae delay or saw-tooth phenomena
4: Main and sub window can adjusted manually,Define picture in picture image size and positio
n of led display by themselves
 5:10bit image process ,1000million colors display .brightness adjustment automatically
6:Support resolution adjustment,support video processor self-test function
7:New menu structure ,larger LCD, bigger and more confortable button and new knob button
8: Add AV2 ,add SDI circuit in and circuit ut ,add DP interface .standard DP1:1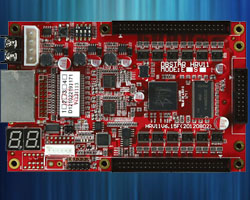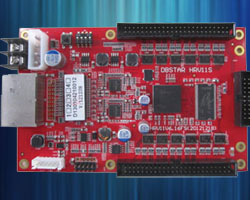 DBS-HRV11E
Feature
1. Adopt electromagnetic compatibility technique that allows the led display passing EMC Test easily.
2. Support more led drivers.
3. Support more functional development and expand.
4. Adopt the V-PWM3 proprietary technique.
5. Support monitor for controller voltage, cable error rate and module temperature.
6. Receiving card with relay realize fan control and so on.
DBS-HRV11S
1. adpot the V-PWM3 proprietary technique
2. support led drivers with PWM ,highly improved refresh rate
3. Bran-new grey engine,better performance on low grey level
4 Support PC 1000M network card sending, no need sending card
5.Support playof 16bit HD video source
6.Support split connection, fully use 16groups data outputs ,raise refresh rate
7.Support grey disappearation ,easy to make the shadow disppear from the dynamic screens
8. Support brightness calibration(16bit),chromatic caliberation.
9.Power-on gradual protection .OE polarity switch control to protect screen scan tubes
10.working voltage range:2.5-12V DC